Eco-Trade of Dél Heves:
The eco-trademark of Dél-Heves will be eligible from 2008 for the following environmental friendly services and products origination from the area:
Rural accommodation,
Tour guiding,
Gastronomy,
Bio-products, honey, traditional farming,
Hand-made articles.
 The providers of accommodation have the most positive attitude towards the project among the stakeholders. In the first phase the information campaign of the eco-trademark focuses mainly on the owners of guest houses. Following their successful joining, when stakeholders in the micro-region can see the achievements of the project, the campaign may aim farmers and traditional craftsmen.
Dél-Heves Nature Park
In Tisza microregion fragments of the grasslands and a part of Lake Tisza are under protection, but the nature park is not established yet. Visitors are attracted mostly by Lake Tisza. A study oath (an elevated boardwalk with bird watching points) on Lake Tisza and a new cycle lane along the lake is particularly popular.
 The basic concept of the project is to draw the attention of the guests to values of the Grasslands of Heves and to strengthen the cooperation among the local municipalities to be able to provide a variety of programs.
A Development and Marketing Plan (DEMAP) of Tisza microregion outlined the development strategy of the future Dél-Heves Nature Park.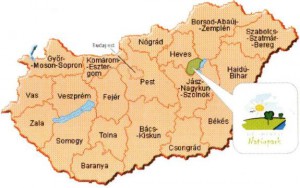 Establishment of the nature park
Legal framework;
Promotional activity;
Unified frame for local programs.
Developing the technical background of the park
Signposting;
Creation of study paths;
Network of information points;
Visitor Center;
Bicycle rental;
Summer schools;
Demonstrational eco-farms.